TUDO SOBRE

CELULARES
HEY! JÁ CONHECE NOSSO CANAL SOBRE

CELULARES?

CLICA PRA CONFERIR!
Baseado em jogos como Desperados: Wanted Dead or Alive ou Commandos, o jogo Shadow Tatics: Blades of the Shogun é um game no estilo estratégia em tempo real situado durante a era Edo no Japão (ano 1615) onde Samurais e Ninjas andavam pelas ruas utilizando-se de espadas e shurikens.
Ele foi lançado no ano de 2016 para PC e no ano de 2017 para Playstation 4 e Xbox One. Possui um tempo de jogo de aproximadamente 25 horas, conta com 5 personagens que enfrentarão missões desafiadoras, cada protagonista com sua própria especialidade.
O jogo já recebeu prêmios no German Developer Awards (melhor jogo alemão, melhor jogo de PC / console, melhor game design).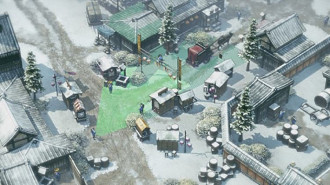 Trailer do jogo:
Gameplay do jogo:
Memória: 4 GB de RAM
Placa de vídeo: Nvidia GT640, AMD Radeon HD7750, 1GB Vram
DirectX: Versão 10
Armazenamento: 13 GB de espaço disponível
Os requisitos recomendados pela Steam para se ter um melhor desempenho são:
Processador: Intel i3 4th-Generation 3.5GHz, AMD Quad-Core 3.9GHz
Memória: 6 GB de RAM
Placa de vídeo: Nvidia GTX 570, AMD Radeon HD 6950, 2GB Vram
DirectX: Versão 11
Armazenamento: 13 GB de espaço disponível
Placa de som: DirectX 9.0c Compatible Sound Card with Latest Drivers
Outras observações: Com SSD o tempo de loading do jogo melhora consideravelmente.
Especial: Requisitos para jogar no PC
O Game Requisitos, traz os requisitos mínimos e recomendados dos principais jogos para computador.
LETRA A
LETRA B
LETRA C
LETRA D
LETRA E
LETRA F
LETRA G
LETRA H
LETRA J
LETRA K
LETRA L
LETRA M
LETRA N
LETRA O
LETRA P
LETRA Q
LETRA R
LETRA T
LETRA S
LETRA U
LETRA V
LETRA W
LETRA X