Foi liberado pela Activision os requisitos necessários para rodar Call of Duty: Black Ops 4 no PC. O beta aberto do jogo foi liberado no dia 10 para aqueles que fizeram a pré-compra, e para todos, foi liberado no dia 11. Para jogá-lo, iremos disponibilizar os requisitos mínimos e recomendados o teste, que pode ser acessado através da Battle.net, site no qual os jogos da Activision-Blizzard são distribuídos, mas isso também significa que ele não será vendido na Steam.
Nos últimos dias, a Treyarch, revelou uma série de novidades e detalhes do novo título da franquia, bem como o novo modo de gênero Battle Royale. O mapa deste modo foi mostrado pela desenvolvedora, que informou ser o maior já feito na série de games. Nomeado como Blackout, permitirá que até 88 jogadores lutem entre si.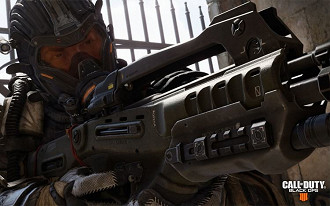 Sobre o jogo
Call of Duty: Black Ops 4 é um jogo de tiro em primeira pessoa desenvolvido pela Treyarch e publicado pela Activision, e é a continuação de Call of Duty: Black Ops III, de 2015. Ele é o quinto título das sub-seções de Black Ops e a 15ª edição da série Call of Duty. Seu lançamento oficial está marcado para o dia 12 de outubro.
Diferente dos títulos anteriores, ele será o primeiro jogo que não possui uma campanha tradicional para um só jogador, contendo apenas o modo Multiplayer, Zombies e o Blackout, que é o substituto da campanha.
No modo Blackout, como já é bastante conhecido pelos fãs do gênero, os jogadores competem um contra o outro até restar somente um. O mapa contém locais que já fizeram parte dos Black Ops anteriores, como Nuketown, Array e Firing Range. O modo também oferece mais veículos terrestres, marítimos e aéreos para todos. Já os personagens são de toda a série Black Ops, como Alex Mason, Raul Menendez e a equipe Primis do Zombies.
O multiplayer também vai contar com uma gama de personagens já conhecidos, que são especialistas e soldados com habilidades únicas. Serão 10 especialistas, dos quais 6 serão do Black Ops III, e o restante são adições novas. O modo terá um remake dos cinco mapas que os fãs mais gostam: Jungle, Slums, Summit, Firing Range e Nuketown. Eles estarão disponíveis para todos no dia do lançamento, exceto Nuketown, que sós será liberado depois.
O beta aberto do jogo traz seis mapas e seis modos multiplayer, que são o Team Deathmatch, Control, Kill Confirmed, Hardpoint, Domination e Search and Destroy. 
Requisitos Mínimos
OS: Windows 7 64-Bit ou posterior
RAM: 8GB RAM
HDD: 25GB HD
GPU: Nvidia GeForce GTX 660 2 GB / GTX 1050 2GB ou AMD Radeon HD 7850
DirectX: Version 11.0
Requisitos Recomendados
OS: Windows 10 64 Bit
CPU: Intel Core i7 4770k ou equivalente AMD
RAM: 12GB RAM
HDD: 25GB HD
GPU: Nvidia GeForce GTX 970 / GTX 1060 6GB ou AMD Radeon R9 390 / AMD RX 580
DirectX: Version 11.0
Especial: Requisitos para jogar no PC
O Game Requisitos, traz os requisitos mínimos e recomendados dos principais jogos para computador.
LETRA A
LETRA B
LETRA C
LETRA D
LETRA E
LETRA F
LETRA G
LETRA H
LETRA J
LETRA K
LETRA L
LETRA M
LETRA N
LETRA O
LETRA P
LETRA Q
LETRA R
LETRA T
LETRA S
LETRA U
LETRA V
LETRA W
LETRA X